The requirement for "protest permits" in New York City, which bedevils the #OccupyWallStreet movement, can be traced back to Christine Quinn, naturally.
On September 24, 2011, what was then the eighth day of the #OccupyWallStreet protest, about 1,000 protesters went on an unpermitted march from Zuccotti Park to Union Square Park in Manhattan. Along the way, 80 people were arrested for various reasons, according to Gothamist :
The majority of the arrests, which were for disorderly conduct, obstructing governmental administration, blocking vehicular traffic, and one assault on a police officer, occurred around Union Square yesterday afternoon after nearly a thousand demonstrators marched down Broadway. Videos show NYPD officers corralling women with nets, indiscriminately discharging pepper spray, and tackling protestors.
How New York City Council Speaker Christine Quinn figures into the arrests of what now numbers well over 1,000 #OccupyWallStreet protesters is a matter of historical record : just take a look at who approved the protest permit requirement in the first place. Not surprisingly, the development of protest permits in New York City can be ascertained by following the course of how Speaker Quinn sold out her liberal roots in pursuit of mayoral electability.
According to a discussion topic posted on September 15, 2007, by David S. Cohen on the Queer Mutiny's Facebook account, Speaker Quinn is responsible for the protest permit requirements in New York City :
In 2006, multiple courts ruled the City's assembly rules unconstitutional, and City Council was charged with fixing them. Instead of conducting public hearings and placing the matter into the hands of City Council, Speaker Quinn abdicated her responsibilities and allowed the NYPD to write these rules behind closed doors.

In February 2007, she rubberstamped the new rules into effect. Suddenly, it became illegal for 50 or more people to gather and process through New York City—unless they request and are given prior permission from the police.

Of course, the NYPD has a long history of attacking political groups, and one of their favorite tools is to deny permit requests of groups—like the organizers of the 2007 Trans Day of Action—who they don't like.

Why do police decide who can assemble and who cannot? And since when do the police write rules? And why is all of this okay with Quinn?

Quinn so desperately wants to be mayor that she has sold the queer community and her constituents down the historical river for her own political gain. We'll remind Quinn that she has her pot of gold, but she better not forgot the rainbow that led her to it!
2003 NYCLU Anti-War ANSWER UFPJ NYC Feb 15 2003 - Arresting Protest Report
A political enabler with aims to minimise, and even silence, dissent.
It should come as no surprise that Speaker Quinn "abdicated her responsibilities." When Speaker Quinn is faced with the dilemma between doing the right thing and picking what renders her with an immediate political advantage, Speaker Quinn always picks what is most politically expedient. Even those, who should be her most ardent base of support, leftist LGBT radical activists, know that Speaker Quinn cannot be counted upon to stay true to her liberal roots.
Speaker Quinn has a reputation for bluffing her way through critical public policy issues, like the hole in public health caused by the impending luxury condo conversion of St. Vincent's Hospital. As has been written on this blog before, Speaker Quinn has mastered the art of the non-answer answer : "She likes to be evasive, but she is definitive about giving you the run-around. She doesn't have to give you either a proverbial bait-and-switch or back-pedal, provided she never has to first give you any policy position with which to lure you."
But Speaker Quinn's evasiveness begins to wear thin amongst radical activists, who know that the only way to make our elected politicians deliver a tangible solution to a societal problem is by keeping them politically accountable. Here is where direct action protest organisers enter into the political equation.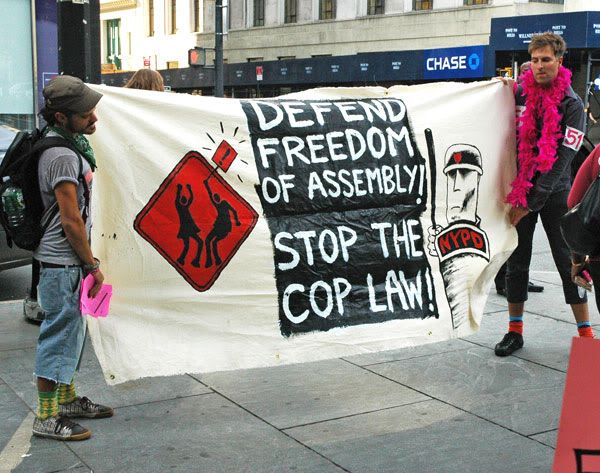 A Gay City News news report, which is no longer available online, was copied on the Radical Homosexual Agenda's website :
PRIDE AT CITY HALL
by Jefferson Siegel
Gay City News
6/21/2007

On Wednesday night over 500 people filled the City Council chamber for a celebration of "LGBT Pride and the Journey to End Violence and Hate." Among those honored were NYPD Detective Kevin Czartoryski, the Rashawn Brazell Memorial Fund, established in recognition of the brutal 2005 murder of a 19-year-old gay man from Brooklyn, and the Gay-Straight Alliance at Port Richmond High School in Staten Island.

Tony-winning actor Stephen Spinella opened the evening, and Speaker Christine Quinn, the first openly lesbian or gay leader of the Council, flanked in the front row by her partner, Kim Catullo, and her father Lawrence, recalled the city's decades-long struggle to achieve gay rights.

In the midst of her speech, half a dozen protesters from ACT UP and the Radical Homosexual Agenda unfurled protest banners from the balcony. They were criticizing a new police regulation requiring groups of 50 or more to first obtain a police permit. "You've criminalized the Dyke March and the Drag March," Tim Doody (pictured with Nina Resnick) of ACT UP yelled. Quinn allowed the protesters to have their say [for one minute], after which they were escorted from the building. There were no arrests.

Councilwoman Rosie Mendez, the chamber's other out lesbian member, who has been a vocal critic of the regulation, spoke up on Quinn's behalf. "My speaker cannot do anything until the Council is behind her," Mendez told the chamber.
''A Council Speaker Who Tightens the Purse Strings on Dissent''
Back on June 20, 2007, when activists with the Radical Homosexual Agenda were targeting Speaker Quinn over the NYPD's anti-assembly rules, activist James Wagner charged that Speaker Quinn had "made herself inaccessible" to activists, who had been seeking to meet with her about the requirement for protest permits. Mr. Wagner wrote that after the activists had been removed from the City Council Chambers, following their banner drop, Speaker Quinn said that she was "willing to meet with anyone who disagreed with her on the question of Police rules for assembly." But, as Mr. Wagner further wrote, Speaker Quinn's expression of willingness turned out to ring hallow : "For the record, I have been assured several times by those who know groups that have tried to engage her that she has repeatedly refused to do this in the past."
Sometime between the mass NYPD arrests during the 2004 Republican National Convention and the 2008 revelation of Speaker Quinn's slush fund scandal, Speaker Quinn decided that the best way to campaign to become mayor of New York City was to hitch her wagon to Mayor Michael Bloomberg's gravy train. But because she does not have Mayor Bloomberg's billions, she was going to use taxpayer money to buy her way into higher office. When even The New York Times, with its many puff and fluff articles about Speaker Quinn's career, dares to report about how Speaker Quinn uses taxpayer money to stifle political dissent, you know that Speaker Quinn has begun to tread on thin political ice.
And now that activists with #OccupyWallStreet are confronting the use of excessive force of, and even brutality by, NYPD, those very activists are going to question Speaker Quinn's role in approving the restrictions on civil liberties caused by her rubber stamp on the NYPD's anti-assembly rules. And once again, here comes another time when direct action protest organisers enter into the political equation.
Christine Quinn's protest permit law has inspired other governments to institute the same restrictions on freedom of assembly and freedom of speech, not surprisingly.
In the time since Speaker Quinn approved the protest permit law, President Obama signed H.R. 347 and the government of Quebec has passed Bill 78.
February 15th, 2003 Police Misconduct Evidence (NYPD)
Video footage from February 15th, 2003 anti-War protest at the United Nations in NYC. Hundreds of thousands of people came out on that day despite sub-freezing temperatures only to be prevented from marching or even entering the permitted protest area. Is this what a free democracy looks like ?