At Hospital Forum, Donny Moss Says : "Vote Christine Quinn Out Of Office."
MANHATTAN (16 Feb 2011) -- During the Questions & Answers period following a community forum for a new Lower West Side hospital, the activist Donny Moss questioned the campaign donations made to New York City Council Speaker Christine Quinn by the Rudin family.
The Rudin family makes its fortune from real estate, and the family has expressed interest in 2009 in developing the real estate belonging to St. Vincent's Hospital. (Now that St. Vincent's is in a weaker bargaining position, because it has gone bankrupt and has closed, the Rudin Management Company is trying to cut its offering price for the St. Vincent's real estate that it wants to buy.)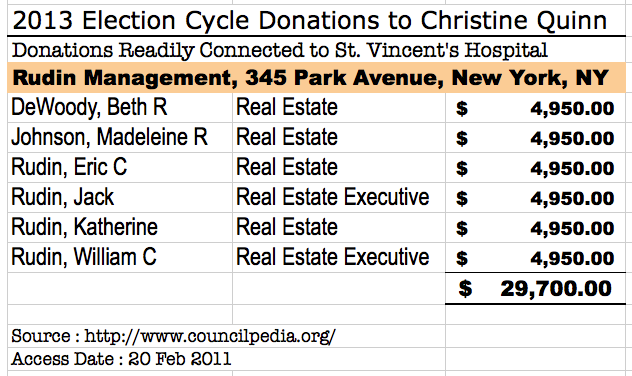 For turning her back on the community and for taking what Mr. Moss said was $30,000 in donations from the Rudin family, Mr. Moss questioned Ms. Quinn's loyalty to her constituency — adding that we needed to vote her out of office.