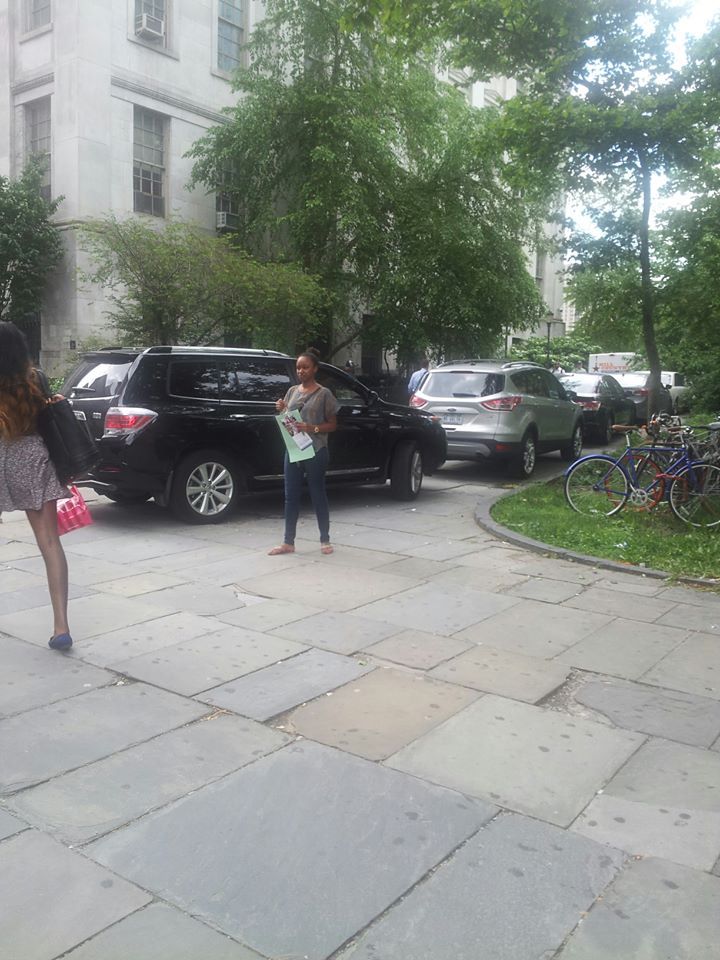 Just before 5 p.m. today, mayoral candidate Randy Credico took this photograph in front of the Criminal Courthouse and the Social Security office in Brooklyn.
"Quinn exploiting black youth in Brooklyn. This girl and two of her friends were petitioning in a Black-concentrated area. They said they were interns and were not being paid," Mr. Credico posted in a rushed Facebook caption to explain the photograph.
Later, when asked to explain his sentiments about the photograph, Mr. Credico expressed outrage that New York City Council Speaker Christine Quinn would be perceived to be exploiting youth volunteer interns, who Mr. Credico said were not being paid.
When asked about how could Speaker Quinn's mayoral campaign, which sits atop of several million dollars in reserve donations, would need to resort to unpaid youth volunteer interns, Mr. Credico said that it was outrageous.
"I find it really cynical that with her disastrous record on civil rights that she would find poor black 20 year olds to work" like in an unpaid capacity "for her campaign," Mr. Credico said.
Mr. Credico originally used harsh language to describe how Speaker Quinn's campaign was exploiting unpaid youth volunteer interns.
What do voters think about Speaker Quinn having millions in campaign donations, but using unpaid help for her campaign work ?