Update : True News From Change NYC Blog Has Been Restored
Google Blogspot Blog Has Been Removed For No Reason ; Blogger Community Suspects Political Censorship ; Call To Action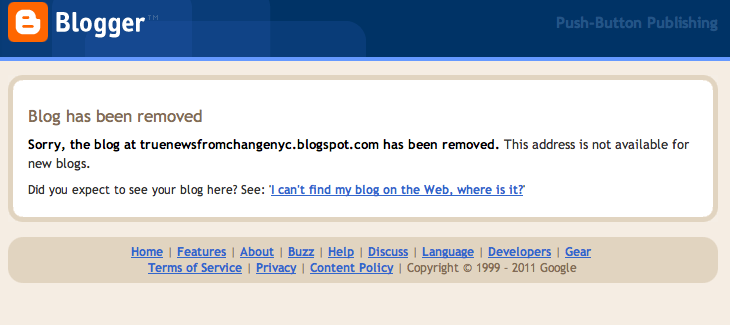 Please send an e-mail to press@google.com and copy Gary Tilzer, the owner of the censored blog, at Gtprinter@aol.com -- demanding that the True News blog be restored.
True News is a blog dedicated to reporting about government scandals, politics, and transparency. (Here is the cached version of the True News blog.)
This is not the first act of censorship against Mr. Tilzer. Before the 2010 election, a YouTube video that Mr. Tilzer produced was banned by NBC/YouTube and had to be replaced with an edited version. In the last couple of years, others have faced incidences of cyber censorship or retaliatory activity. One and a half months before the 2009 election, the YouTube channel owned by the artist and political commentator Suzannah B. Troy was likewise censored, until bloggers and a lawyer intervened on her behalf. In 2010, this blogger was attacked by computer viruses 3 or 4 times, including on the day this blogger reported to the New York Department of State Committee on Open Government an act of censorship committed by Brad Hoylman.
Flashback : Secretary of State Hillary Clinton hailed Internet freedom as tool to 'spread truth and expose injustice'
We need your help to keep courageous bloggers, like Mr. Tilzer, doing what they do. If you are reading this, it is because you are turning to the Internet for reliable information. For it to be here, bloggers, like Mr. Tilzer, have to be able to do their work without fear of retribution or censorship.