Christine Quinn Sells St. Vincent's Hospital to Rudin Family ; Jane Jacobs is Turning in Her Grave. :'(
New York City Council Speaker Christine Quinn continues her campaign to sell New York City landmarks to real estate developers, activists say. Witness the latest announcement involving the historic real estate of the former St. Vincent's Hospital.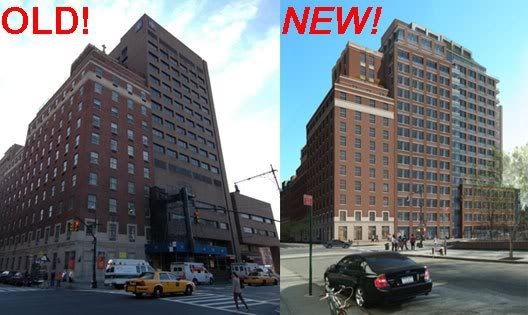 From Curbed :
If this graphic looks familiar, it's because we've seen it before, back when the Landmarks Presrevation Commission approved the highly controversial St. Vincent's redevelopment plan. In the intervening months, the hospital's closure took that redevelopment plan off the table, and the great St. Vincent's sell-off began. And then this bombshell: the Observer reports that, actually, the sawtooth O'Toole Building will be retrofitted and reopened as an emergency medical facility, with assistance from Rudin Management, the developer behind the previous plan, and North Shore-LIJ hospital. A victory for preservationists? Yes and no.

One thing the preservationists didn't want was the construction of an FX Fowle-designed residential building on Seventh Avenue South. Win some, lose some: that aspect of the old plan is back in a big way (as is the Michael Van Valkenburgh Associates makeover of St. Vincent's Triangle). The building will contain 450 units of luxury condos. Last time the subject came up, the LPC ordered the 233-foot building cut down a few stories, so we don't know what the final version will look like. We're guessing the architectural surgeons will still end up with something similar to the last design.
The rumour amongst activists it that, for an encore, Speaker Quinn will join forces with Mayor Bloomberg, to bust the unions of public employees, like teachers.