Queens' Peninsula Hospital Center set to close ; New York Downtown Hospital putting patients on stretchers in the hallway to accommodate unmanageable influx of emergency patients.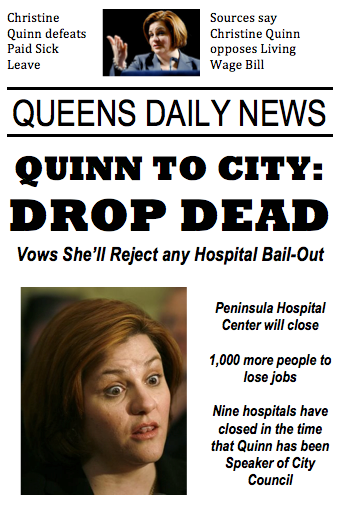 "Sources say the Far Rockaway, Queens, hospital will shutter after owing millions to vendors and falling behind on its union benefits funds payments; the closure would cost the area about 1,000 jobs," reported Crain's.
The Queens Crap blog published a post today, indicating that Peninsula Hospital Center had filed a 90-day closure plan, a requirement under the law that was violated when St. Vincent's Hospital closed on April 30, 2010.
Is our social safety net not too big to fail ?
Does nobody in City Council have any concern about the financial collapse of so many hospitals across all five New York City boroughs ?
Does Mayor Michael Bloomberg not care, either ?
Meanwhile, following the illegal closing of St. Vincent's Hospital last year, there reamins only one hospital south of 16th Street in Manhattan, New York Downtown Hospital, which The New York Post has reported as being ''overwhelmed,'' and is leading to an ''emergency-care crisis,'' the newspaper reports.