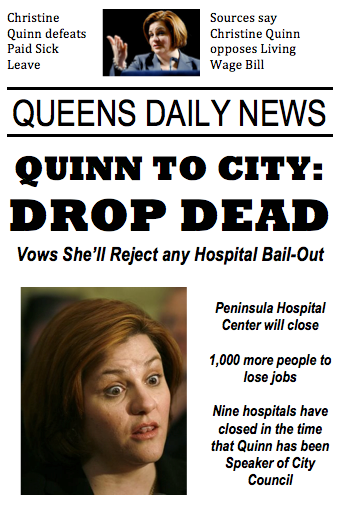 UPDATED : As more hospitals in New York City are at an increased risk to be closed, four community activists were arrested on February 8, 2011, following a sit-in at the former site of St. Vincent's Hospital.
St. Vincent's closed in 2010 under shady conditions. The arrests were largely ignored by the mainstream media. Why ?

In the time that Christine Quinn has been Speaker of the New York City Council, at least eight city hospitals have closed. In 2010, North General Hospital in Harlem declared bankruptcy and St. Vincent's Hospital in the West Village shut down after shady backroom meetings. In 2009, two hospitals in Queens – St. John's Queens Hospital in Elmhurst and Mary Immaculate Hospital in Jamaica – went bankrupt. In 2008, Cabrini Medical Center in Manhattan, Parkway Hospital in Queens, and Victory Memorial Hospital in Bay Ridge closed. And in 2007, St. Vincent's Midtown in Manhattan was closed. Separately, one other hospital in Brooklyn, Long Island College Hospital, was recently saved : it had been on the brink of closing, and the only way the hospital was saved was by merging it with SUNY Downstate.
From
The New York Post
:
Governor's Medicaid cuts may kill 10 city hospitals
By CARL CAMPANILE
Last Updated: 10:12 AM, January 22, 2011
Posted: 12:53 AM, January 22, 2011


One-third of New York City's private hospitals could lose their life support and shut down if Gov. Cuomo goes through with his vow to cut between $2 billion and $3 billion from the state's massive Medicaid program, The Post has learned.

"There are 10 to 12 hospitals that are teetering on the edge [statewide]," said Stephen Berger, a member of Cuomo's Medicaid redesign team, who previously headed a state hospital restructuring panel.

"How many of them are really necessary? How many can be saved? How many can be merged? That's what we have to ask," added Berger.

"Given the amount of money we are spending, we ought to be putting together a much more efficient health-care system with better patient care."

Many of the hospitals teetering on the brink of financial collapse are located in the city's poorer neighborhoods and serve a high number of patients covered by Medicaid, the public insurance program for the needy.

Steep reductions in Medicaid could disproportionately impact these hospitals, possibly forcing institutions to enter bankruptcy or to shut down permanently, advocates warn.

Hospitals considered to be in the fiscal intensive care unit include Brookdale, Kingsbrook, Wyckoff, Interfaith and Brooklyn in Brooklyn, Jamaica and Peninsula in Queens and many institutions in The Bronx including Westchester Square.

"It's no secret that a lot of hospitals in the New York City area are struggling financially, and the worst budget outcome for them would be straight reimbursement cuts, which has happened nine times since 2007 and contributed to several closures," said Brian Conway, spokesman for the Greater New York Hospital Association.

The closure last year of the storied St. Vincent's Medical Center in Greenwich Village as well as North General Hospital in Harlem put everyone on notice that Albany -- facing a $10 billion budget shortfall -- is unlikely to save chronically ill institutions.

"Although eight hospitals have closed since 2007, nearly one-third of the surviving voluntary nonprofits, most of them 'safety net hospitals,' are in jeopardy," the United Hospital Fund says in its semi-annual "Hospital Watch" report.

Poor prognosis

Among hospitals in danger of closing if major cuts in Medicaid funding come down from Albany:

Brooklyn:


Brooklyn Center
Brookdale
Interfaith
Kingsbrook
Wyckoff

Queens:
Bronx:


Westchester Square
St. Barnabas

Eight city hospitals have closed since 2007.