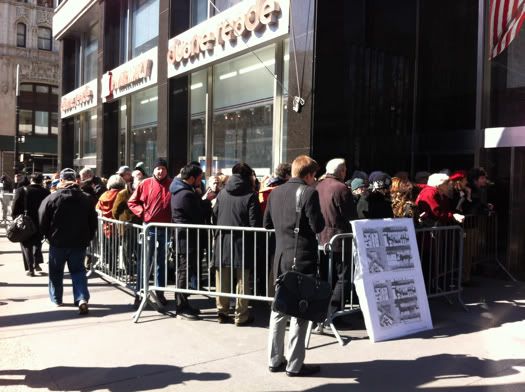 Did Christine Quinn, City Council deliberately deny community access to Rudin Condo Hearing ?
New York, NY (March 6, 2012) -- Over 200 people were shut out of the final hearing, where public testimony was to be accepted, before the New York City Council and its Speaker Christine Quinn were expected to decide whether to approve or reject the irresponsible Rudin Family's luxury condo conversion plan for St. Vincent's Hospital.
People stood in line since 8 a.m. -- some before -- outside 250 Broadway, where the hearing was held, only to be denied participation. An elderly man collapsed inside an unnecessary and humiliating police barricade ; the senior citizen seemed to have suffered a seizure from prolonged exposure to the cold. Thankfully, there were doctors among the crowd waiting to give their testimony, who kept medical watch over the senior citizen. But the ambulance took approximately 30 minutes to respond to 250 Broadway, even though New York Downtown Hospital is nearby.
Since the closing of St. Vincent's, area residents are afraid that their lives are in danger from the extended EMS and ambulance response and transport times to alternative hospitals, such as Beth Israel Hospital or St. Luke's-Roosevelt. Residents and activists complained about having to stand outside and wait in the cold morning weather. At times, residents and activists changed, "Let us in."
Media entrepreneur Tom Allon, who is a declared candidate for the New York City Mayor's race in 2013, waiting outside 45 minutes before he was allowed into the hearing to testify. Watch our exclusive exit interview, in which Mr. Allon criticised Speaker Quinn and the New York City Council for denying residents and activists an opportunity to provide public testimony.
How much danger is Speaker Quinn willing to put New York City in, with all of these irresponsible hospital closings ? To what lengths is she willing to go, to exclude public participation in public hearings ?