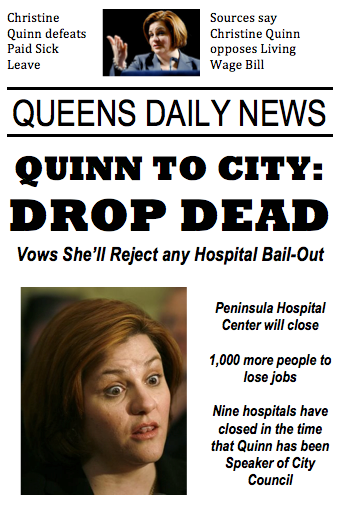 Peninsula Hospital Center - Protesters Take Over Lobby - Hospital Closings in NYC
Approximately 200 union employees, residents of Far Rockaway, in Queens, and local officials, gathered in the rain outside Peninsula Hospital Center, across the bay from JFK Airport. Peninsula Hospital Center has filed a plan to shut its doors. The hospital's owner is embroiled in a political and financial scandal, but employees and residents are worried about the threat to public health, should the hospital's closure plan be approved.
Attendees of the rally braved the rain, then, once the rally had ended, stormed into one of the lobbies of the hospital, until hospital officials called the police, to clear the lobby of its own employees.
In the time that Christine Quinn had been speaker of the City Council, eight hospitals (not counting Peninsula) have closed. If Peninsula closes, it would mark the ninth hospital to close under Speaker Quinn's watch.

This week, President Obama agreed to severe budget cuts to social safety net programs, that underpin the social contract we make with our government and amongst ourselves. More budget cuts to Medicaid and Medicare will lead to a further collapse of our healthcare system. Is Christine Quinn in Bermuda with Mayor Michael Bloomberg each time a hospital closes in New York City ? Is President Obama surfing in Hawaii each time a hospital closes in America ?
If we obediently listen to people, who are in power (the same people who work for us, the very same people who are closing our hospitals), telling us to leave the lobby of a closing hospital, then it just makes it that much easier for the New York State Department of Health/Christine Quinn to keep closing hospitals.
In the time that Christine Quinn has been Speaker of the New York City Council, at least eight city hospitals have closed. In 2010, North General Hospital in Harlem declared bankruptcy and St. Vincent's Hospital in the West Village shut down after shady backroom meetings. In 2009, two hospitals in Queens – St. John's Queens Hospital in Elmhurst and Mary Immaculate Hospital in Jamaica – went bankrupt. In 2008, Cabrini Medical Center in Manhattan, Parkway Hospital in Queens, and Victory Memorial Hospital in Bay Ridge closed. And in 2007, St. Vincent's Midtown in Manhattan was closed. Separately, one other hospital in Brooklyn, Long Island College Hospital, was recently saved : it had been on the brink of closing, and the only way the hospital was saved was by merging it with SUNY Downstate.