Watch what people in the community are calling the "Kiss of Death of St. Vincent's Hospital" at 1:49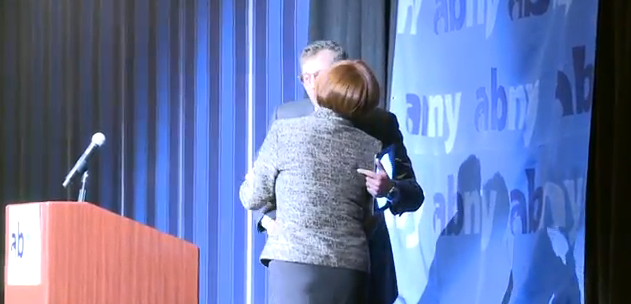 In a speech sponsored by the Association for a Better New York, New York City Council Speaker Christine Quinn spoke about the Great Recession and the dire straits in which that working families find themselves. Who knew that she was talking about the conditions created by William Rudin ?
You see, William Rudin is the figure head owner of the company called Rudin Management Company. He, his company, and his entire family have bought the real estate of St. Vincent's Hospital from bankruptcy court for only $260 million. After he supersizes the campus and converts it into luxury condominiums, he is going to sell exclusive luxury condos and townhouses for a combined market value of over $1 billion.
It is the #corporategreed of the Rudin family and the Association for a Better New York that is shredding the social safety net right here in New York City by denying emergency and trauma care to the entire Lower West Side. That is why William Rudin and his company have become the targets of protests by #OccupyWallStreet. Has anybody told that to Speaker Quinn ? Will it be the end of her political career for her to be seen kissing the man, who is the target of #OccupyWallStreet ?
Did Christine Quinn Give Up On Saving St. Vincent's In Exchange for Campaign Donations From The Rudin Family ?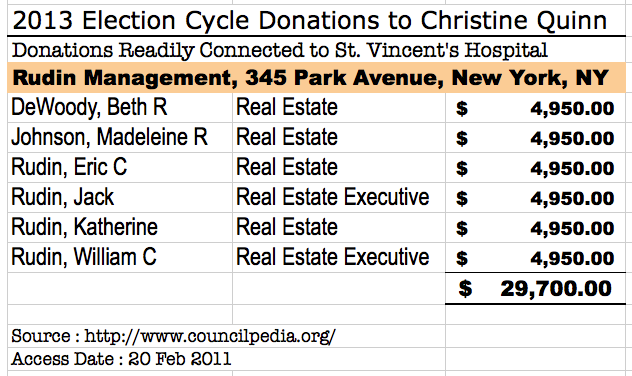 In an apparent conflict of interest, Beth R. DeWoody, Madeleine R. Johnson, Eric C. Rudin, Jack Rudin, Katherine Rudin, and William C. Rudin each donated $4,950 to Christine Quinn's presumed 2013 mayoral campaign. During this time, the Rudin family has been trying to salvage a multi-million dollar real estate purchase of the buildings that belong to the bankruptcy estate of St. Vincent's Hospital. Since the Rudin family wants to build luxury high-rise condos on the site of St. Vincent's, do these large campaign donations explain why Speaker Quinn has done nothing to restore a hospital to the former St. Vincent's site ?