Make a pledge today to support Roots of Betrayal : The Ethics of Christine Quinn on Kickstarter.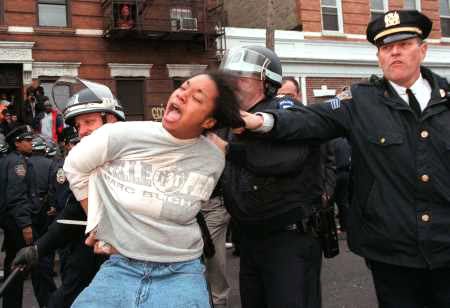 Christine Quinn Wound Continue Unconstitutional "Stop and Frisk" Policy Of The NYPD.
"Christine Quinn Says She Would Continue Policy of Stopping and Frisking Black and Latino Males," reported Brooklyn Ron on his website. Brooklyn Ron continued :
The practice of stopping hundreds of thousands of black and Latino young men is a crime, and the city should pay for the innocent men it has detained so far.

Some in the city, including Kirsten John Foy, top aide to City Public Adovocate Bill de Blasio, say millions of New Yorkers are being stopped every year.

The vast majority are known to be innocent of any crime.

This is wrong and it is discriminatory.
"Quinn says she'd continue the NYPD's controversial stop-and-frisk tactic . . ." was the information that Brooklyn Ron quoted, from a New York magazine article written by Chris Smith.