City Council Speaker Christine Quinn will return $26,471 in "morally bankrupt" campaign contributions from Steve Nislick, the President and co-Founder of the animal rights lobbying group NYCLASS, but Speaker Quinn will not return in "morally bankrupt" campaign contributions from the Rudin family.
In a secret iPhone audio recording, a top real-estate executive was caught talking about the dirty little secrets behind being a campaign bundler for City Council Speaker Christine Quinn.
"Even if it's a morally corrupt investment, you know what, you've got to do it, I think," Mr. Nislick is heard saying.
The New York Post published a critical look at Speaker Quinn's campaign bundlers, only because activists secretly infiltrated NYCLASS to expose the truth about NYCLASS's double-dealing with animal rights on the one hand, and with Speaker Quinn, an infamous champion for the horse-drawn carriage industry in Central Park, which, at times, has been described as a form of animal exploitation tourism, on the other. It is unknown if The New York Times' own politically-motivated hit job on one of mayoral candidate John Liu's campaign donation bundlers prompted The NYPost to publish it's own critical look at Speaker Quinn's campaign donation bundlers. The NYPost article was written by the reporter David Seifman.
Other activists do not believe that all animal rights activists would bundle money with such a reckless disregard for ethics ; look at how Speaker Quinn readily and so eagerly accepted more donations from the Rudin family in exchange for going along with Rudin luxury condo upzoning project for St. Vincent's Hospital :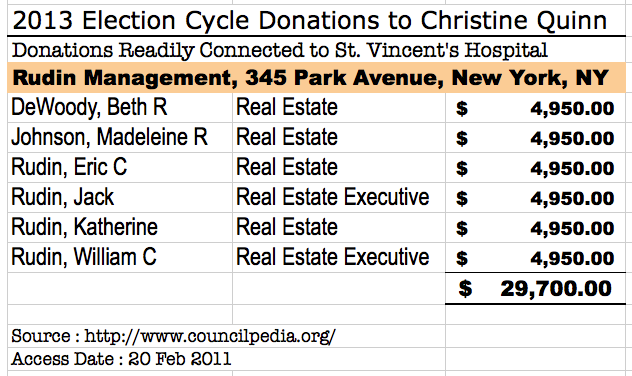 As an aside, no wonder Speaker Quinn won't support the Living Wage bill, because it takes funneled campaign donations money and protests, perhaps organised by #OccupyWallStreet, before Speaker Quinn would support a Living Wage.