Another Protest Against Christine Quinn
On Tuesday, February 7, activists gathered outside of the New School at 55 West 13th Street to protest against New York City Council Speaker Christine Quinn.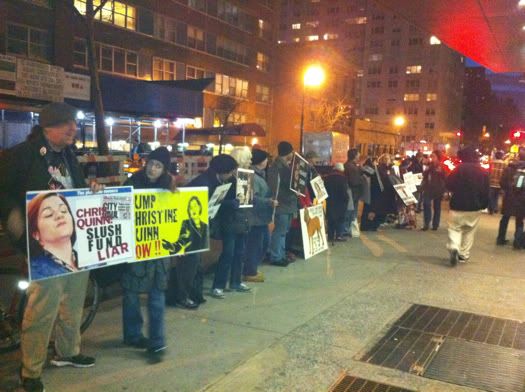 Protesters cited many reasons to vote Speaker Quinn out of office.
Many activists held protest signs that reminded passers-by of Speaker Quinn's relentless use of slush funds and other payments to fictional charities in budgetary maneuvers that allow the City Council Speaker to reward her political allies and punish her political opponents.
Still, yet, other activists held up protest signs to remind voters about the back-handed way that the City Council Speaker changed term limits in 2009.
A popular chant that the protesters used went like this : "Given all the laws she's breeched, Christine Quinn should be impeached." All the while, activists distributed flyers with other information about Speaker Quinn's record of corruption.
Make a pledge today to support Roots of Betrayal : The Ethics of Christine Quinn on Kickstarter.