Christine Quinn Gives Back $2,000 In Dirty Money, But Keeps $41,000 In Shady Donations, Including $30,000 in Rudin Luxury Condo Conversion Donations.
City Council Speaker Christine Quinn "plans to return $2,000 from convicted felons" after reporters from The New York Post questioned suspicious donations in her 2013 Mayoral campaign account.
| | |
| --- | --- |
| CAMPAIGN DONOR | QUESTIONABLE DONATIONS |
| | |
| Kenneth Starr | Ms. Quinn's troubled 2013 mayoral campaign was shamed into returning a $1,000 donation from Ponzi schemer Kenneth Starr, formerly of Starr & Co., but she is not so ashamed, because her spokespeople are saying that her campaign is keeping $10,000 from his associates. |
| | |
| Hassan Nemazee | Ms. Quinn's campaign staff also announced their intention to return a $1,000 donation from Hassan Nemazee, a former businessman and Democratic donor who pleaded guilty in 2010 to defrauding banks of $292 million, but naturally, Ms. Quinn's campaign will keep a $1,000 donation from Mr. Nemazee's wife, even though there's no way of telling if her donation comes from co-mingled monies. |
Ms. Quinn's campaign is on the defensive about having accepted so many questionable campaign donations. In addition to the $11,000 that Ms. Quinn's campaign is keeping in questionable donations, as indicated above, her political handlers are keeping silent about $30,000 in donations that she has accepted from a billionaire family, that is lobbying the city for special treatment. Conflicts of interest are apparent in the $30,000, for example, which Ms. Quinn's campaign has accepted from the Rudin family.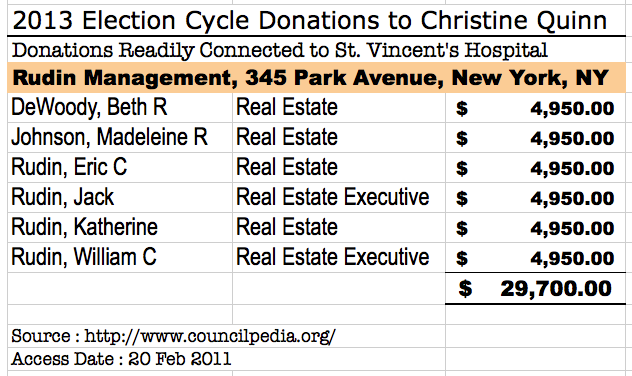 The Rudin family has needed several approvals from the City of New York for its Luxury Condo Conversion Plan for St. Vincent's Hospital, and the large and sizeable donations that the Rudin family has made to Ms. Quinn's campaign raises serious questions if Ms. Quinn runs a "pay-to-play" political campaign.