@chriscquinn Don't let history sanitize the past. #EdKoch was silent while 1000's of LGBT NY-ers fought and died from AIDS. @tlrd @joemygod

— ACT UP New York (@actupny) February 2, 2013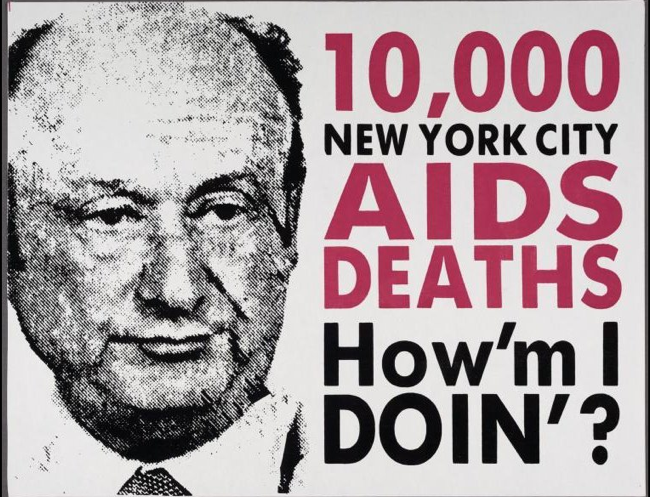 From Gay Star News :
After lesbian NYC mayoral candidate Christine C. Quinn released a statement calling Koch a 'great mayor' and a 'great man,' LGBT activists pounced. Among those critical of Quinn is Peter Staley, one of the key members of ACT UP and TAG (Treatment Action Group) whose activism and innovation is credited with playing a crucial role in HIV-AIDS going from a death sentence to a manageable condition with the help of certain drugs.

'I'm supporting Christine Quinn for mayor, but this mass email she just sent out is completely tone deaf to the generation of gay New Yorkers who worked tirelessly to throw (Koch) out of office (and we succeeded),' Staley writes in a Facebook post. 'We will never forget his contemptible legacy of neglect during the early years of the HIV/AIDS crisis.'
Read more : Former New York Mayor Ed Koch dies at 88 unforgiven by AIDS activists. Many say he was closeted gay man who didn't do anything on AIDS when his constituents were dying of disease.
I'm a supporter, but @chriscquinn's mass email is tone deaf to the gen. of gay NYers who fought Koch's AIDS neglect twitter.com/peterstaley/st…

— Peter Staley (@peterstaley) February 1, 2013
- - - - - - - - - - - - - - - - - - - - - - - -
REALITY CHECK : Christine Quinn is not tone deaf. Instead, she is taking for granted that the LGBT community will vote for her. Therefore, she is taking us for for a ride. She is playing politics with Mayor Koch's AIDS responsibility in order to appeal to voters in the run-up to this election year. When will people wake up to this fact ?
@chriscquinn I'm a bit shocked by this.Koch is a TRAITOR to New Yorkers and Democrats.He can rot in hell for all I care.

— New Yorker (@vesnawasrobbed) February 1, 2013