At tremendous political peril to Christine Quinn, the leader of the NAACP plans to make ''stop-and-frisk'' a major mayoral campaign issue.
New York City Council Speaker Christine Quinn has been so close and chummy with Mayor Michael Bloomberg's and NYPD Commish Ray Kelly's unconstitutional and racist policy of ''stop-and-frisk.'' She has been waging a neoliberal campaign that is hard on crime by being harder on people of color.
But now comes NAACP President Benjamin Jealous, who is sick and tired of the racial profiling that underpins the entire ''stop-and-frisk'' program, The New York Post reported.
Mr. Jealous "trashed" the stop-and-frisk program during remarks he made at Nazarene Congregational Church in Brooklyn yesterday, and Mr. Jealous's comments were seen as criticism of Mayor Bloomberg's and Police Commissioner Kelly's ill-conceived support for the use of stop-and-frisk. Indeed, Mr. Jealous portrayed Mayor Bloomberg and Commish Kelly as "villains."
"We intend to ensure through every legal means that stop-and-frisk becomes a thing of the past with the next mayor of this town," Mr. Jealous said.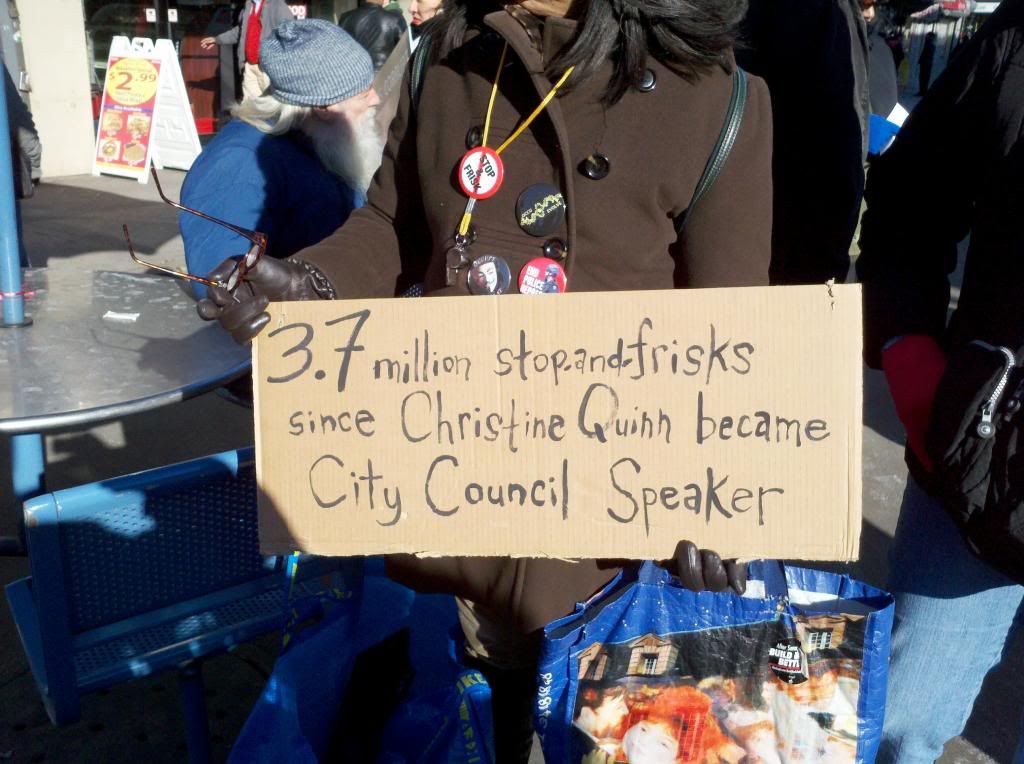 Three of the four major Democratic candidates — Public Advocate Bill de Blasio, City Council Speaker Christine Quinn and former city Comptroller Bill Thompson — have all said the practice should be reformed but not scrapped. Quinn has yet to take a position on a package of bills before the Council to scale back the program.

City Comptroller John Liu wants to abolish stop-and-frisk altogether.

Jealous also said he wants the next mayor to get rid of Kelly, who consistently polls higher among Democrats than any elected official.

Quinn has signaled she would keep Kelly on board if she won the race and Kelly was willing to stay.

Her competitors in the primary have not made the same commitment.
For her past support of Commish Kelly and for going along with fully funding the NYPD's stop-and-frisk program all these many years -- over 3.7 million stop-and-frisks have occurred whilst Christine Quinn has been speaker of the City Council -- Speaker Quinn has been targeted by activists for enabling the NYPD's discrimination against people of color. (Another blog post about the protest against Christine Quinn's support of stop-and-frisk.)
Read more : Christine Quinn Caught in Stop-and-Frisk Political Trap