Members of ACT UP and other affinity groups protested outside the Democratic Mayoral Candidate Forum on LGBT Issues on Wednesday, March 20. Activists were calling for passage of paid sick leave, the end of HIV criminalisation, and an end of NYPD arrests of LGBT New Yorkers for carrying condoms.
In this video, the blogger and artist Suzannah B. Troy and the activist and blogger Louis Flores addressed some of the many issues that activists have with the karmically-challenged mayoral campaign of New York City Council Speaker Christine Quinn.
A controversial banner was prominently displayed at tonight's protest, depicting a condom that is handcuffed. One of tonight's activists said to the hundreds of people in the queue at the entrance to the mayoral forum, "If you get stopped-and-frisked, and you are carrying condoms, then you will be put in handcuffs," in reference to the NYPD's policy of profiling LGBT New Yorkers for arrest by using any condom possession as evidence of criminality.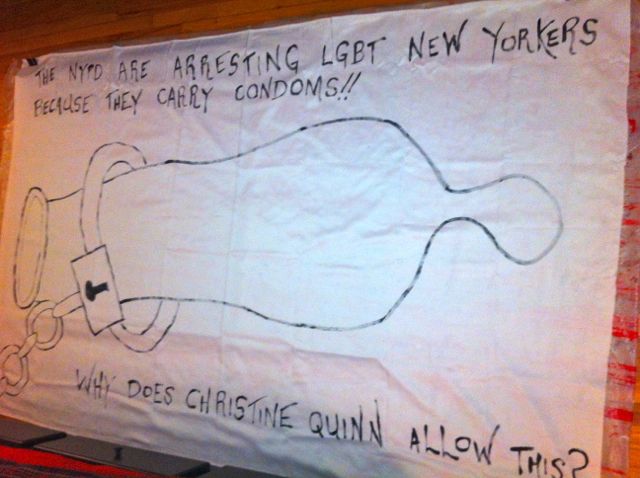 Even though many mayoral candidates were set to appear at tonight's forum, Speaker Quinn's campaign leaned heavily on City Council staff, some activists said, because she had dozens of paid staff on-site to distribute stickers, hold up campaign signs to stack the queue in her favour.
The forum was held at Baruch College's Mason Hall, 17 Lexington Avenue at 23rd Street. The public was told to use the entrance on 23rd street, but there was a side entrance on Lexington Avenue, which Speaker Quinn used, so she could avoid protesters.
A few members from the Facebook group, Queers Against Christine Quinn : Protest against NYPD Condom Arrests outside Democratic Mayoral Candidate Forum on LGBT Issues, joined in tonight's protest.