To Preet Bharara : Do @chriscquinn's official acts come as a result of campaign donations ? christine-quinn-sold-out.blogspot.com/2011/02/rudin-… #StVincentsHospital

— Stop Christine Quinn (@stopchrisquinn) April 4, 2013
In 2009, Bill Rudin and New York City Planner Amanda Burden were photographed at the same plush "Observer 100" party to celebrate money, power, and influence. In spite of their cozy relationship, Ms. Burden did not recuse herself during the zone-busting approval process for Mr. Rudin's billion-dollar luxury condo conversion of St. Vincent's Hospital. There is no such thing as a conflict of interest in New York City government, and the Department of Investigation is a joke.
The conflict of interest in respect of Ms. Burden paints a pattern of how Bill Rudin does business. Mr. Rudin also participated in an arrangement with the appearance of being a quid pro quo with former mayor Ed Koch.
Rudin family offered #EdKoch posh apartment.nytimes.com/2013/02/03/nyr… ; Koch promoted Rudin condo plan for #StVincent's. dnainfo.com/new-york/20110…

— Stop Christine Quinn (@stopchrisquinn) February 3, 2013
But Ms. Burden and Mr. Koch were not alone in compromising the integrity of the government approval process that stacked the deck in favour of Mr. Rudin's devastating zone-busting plan, which seized a charitable community hospital as the site for his billion-dollar luxury condo conversion plan.
Did Christine Quinn Give Up On Saving St. Vincent's In Exchange for Campaign Donations From The Rudin Family ?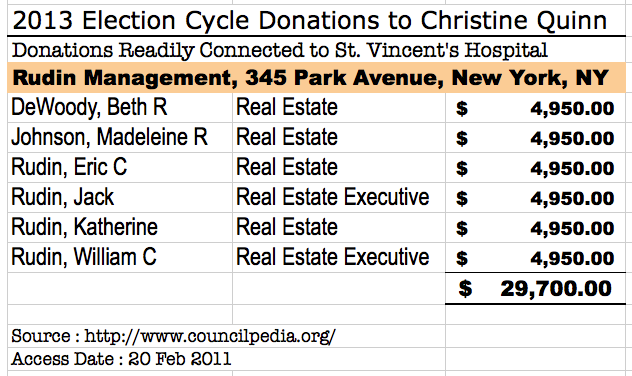 In an apparent conflict of interest, Beth R. DeWoody, Madeleine R. Johnson, Eric C. Rudin, Jack Rudin, Katherine Rudin, and William C. Rudin each donated $4,950 to Christine Quinn's presumed 2013 mayoral campaign. During this time, the Rudin family has been trying to salvage a multi-million dollar real estate purchase of the buildings that belong to the bankruptcy estate of St. Vincent's Hospital. Since the Rudin family wants to build luxury high-rise condos on the site of St. Vincent's, do these large campaign donations explain why Speaker Quinn has done nothing to restore a hospital to the former St. Vincent's site ?
Not only that, but the Rudin family also donated over $7,000 to the campaign coffers of Manhattan Borough President Scott Stringer. President Stringer eventually approved the luxury condo conversion of St. Vincent's, pointing to a second public official who seems to subscribe to the "pay-to-play" corruption that the ULURP process has apparently become ?
2009 - Rudin Family Donations to Scott Stringer - St. Vincent's Conflict of Interest - Advanced Search - Ne...
Does Bill Rudin use the Association For A Better New York to further his economic interests ?
Not only has Bill Rudin and his family funneled money to the mayoral campaign of Christine Quinn, but he also helps to fluff Speaker Quinn's image in the media. Mr. Rudin put Speaker Quinn on the podium to give her a venue to talk about the post-Sandy real estate projects, from which developers are eager to make money. The emergency response to Hurricane Sandy was still on-going at the time of Speaker Quinn's speech, but the political and economic opportunism was shown to be in full swing.
Does Bill Rudin use the Partnership For New York City to further his economic interests ?
Another vehicle, which Mr. Rudin uses to great effect, is his position as a director of the Partnership For New York City, an elite chamber of commerce-like entity, which helps billionaires and large corporations buy insider influence with government leaders.
For example, while Brad Hoylman was chairman of Manhattan Community Board 2, which was overseeing the initial elements of the zone-busting real estate approval process for the luxury condo conversion of St. Vincent's Hospital, Mr. Hoylman was then employed by Mr. Rudin's Partnership.
Of course, if you were Bill Rudin, you would look successful if you had the resources, the conflicts of interest, the malfeasance, and the gall to corrupt so much of the government for your own personal gain.