SF Pride : 'Bradley Manning will not be a grand marshal'
In a CBS news report yesterday, it was announced that the San Francisco LGBT Pride Celebration Committee named PFC Bradley Manning as one of the 2013 pride parade's grand marshals. But only one day later, it was reported in The Guardian that the PFC Manning's selection to be one of the grand marshals had been rescinded.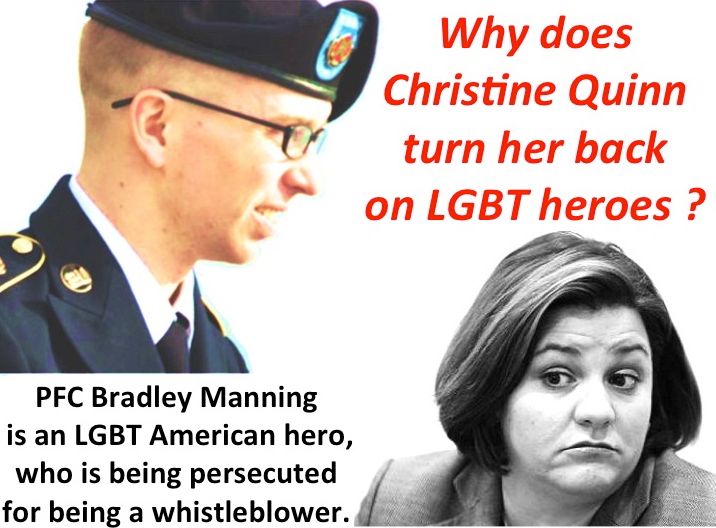 PFC Manning has been accused of being one of the greatest war crimes whistleblowers in U.S. history, and the Department of Justice, in conjunction with the U.S. military and other diplomats, have chosen to aggressively prosecute PFC Manning to send a chilling message to whistleblowers everywhere. Thus, the San Francisco pride parade selection was initially seen as a rebuke by the LGBT community of the prosecutorial misconduct by the Obama administration.
But, alas, that was not to be.
When faced with criticism from the radical military extremists, San Francisco Pride Board President Lisa Williams immediately caved-in to pressure and retracted PFC Manning's honorary grand marshal selection.
Meanwhile, a courageous LGBT activist in New York City has launched a new petition on Change.org to celebrate PFC Bradley Manning : NYC Heritage of Pride : Add PFC Bradley Manning to the list of Grand Marshals for NYC Pride
Let's hope that New Yorkers will be more sophisticated and more resolute in celebrating PFC Manning as a true LGBT American hero, in spite of the campaign of torture and vindictive prosecution being waged against him by the federal government.
As usual, New York City Council Speaker Christine Quinn, the highest elected openly LGBT politician in New York City, has continued her 1,000+ day silence about PFC Manning.
It's not known if Ms. William's flip-flop of support for PFC Manning is better or worse than Speaker Quinn's silence.