Confronting the President of Magical Thinking : A Vocation of Agony
Barack Obama and his family, the vice president and his family, other government officials, and their supporters celebrated the president's second inauguration today, which coïncided with the federal holiday commemorating the life and accomplishments of the Rev. Dr. Martin Luther King, Jr.
LGBT Americans were jubilant, because the president said some aspirational words in the second half of his inaugural address.
"Our journey is not complete until our gay brothers and sisters are treated like anyone else under the law, for if we are truly created equal, then surely the love we commit to one another must be equal, as well."
Immediately, the president's supporters acted in lock-step to express support for this expression of a longing for equality.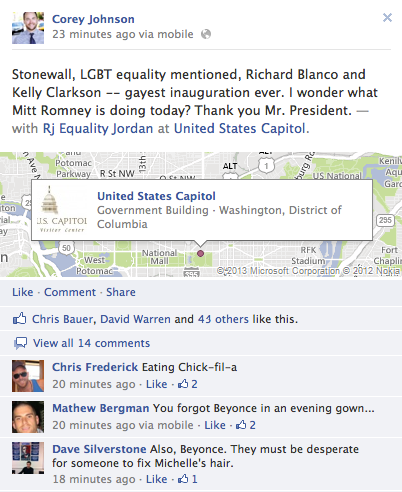 Corey Johnson is an up-and-coming LGBT politician, who is patterning himself after New York City Council Speaker Christine Quinn's doctrine of putting politically-expedient identity politics before having to deliver any government reforms. Note how the president failed to say the words lesbian, bisexual, and transgendered in "LGBT," but already the president's supporters were having to say the words that the president found unspeakable.
It appears that Mr. Johnson's excitement could be being based not so much on the president's promise of legal reforms that would result in LGBT equality, but, rather, on political party discipline that calls for a self-motivated unity in messaging to sway Progressive voters into believing that the Democratic Party was on their side.
But for the incomplete messaging that the president's words offer, there is no plan attached to how the president plans to "complete" our "journey."
On Facebook, some LGBT activists picked up on the incomplete messaging in the president's rhetoric, because they had noticed a pattern in his prior speeches.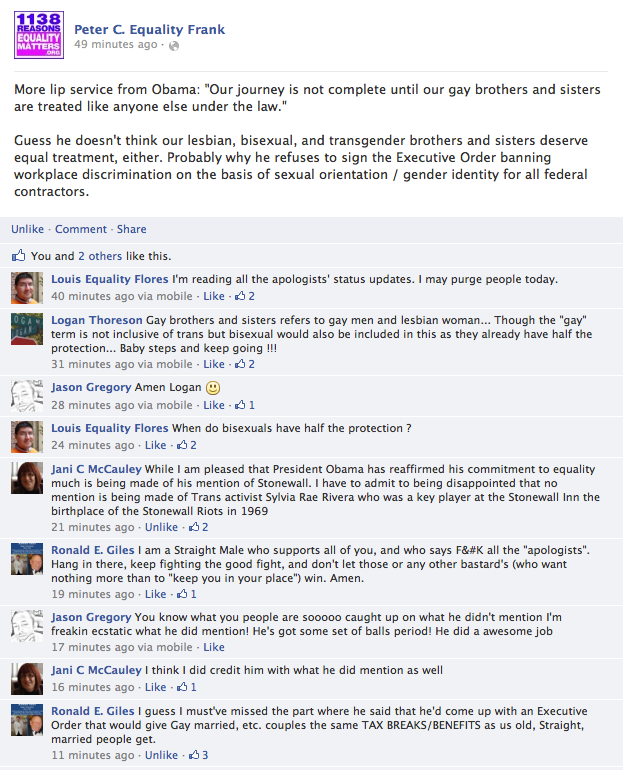 Some LGBT activists were already picking up how President Obama was unable to utter the words lesbian, bisexual, and transgender.
To the president's army of speech writers, did those words lack any dignity and respect, and, therefore, did not need to be mentioned ?
In his speech during his second inaugural ceremonies, President Obama seemed to be channeling the "great communicator," who, we may all remember, was notable for his failure to uttered the word "AIDS" until after thousands of people had died.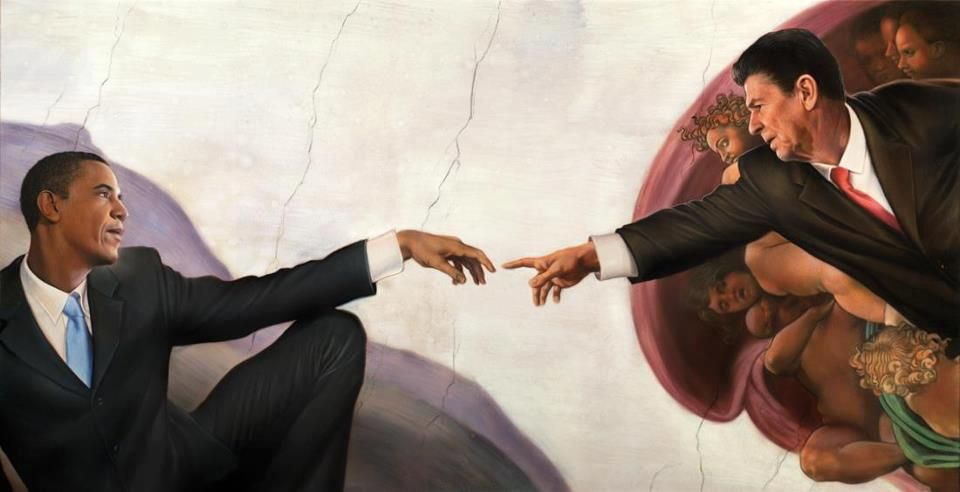 Many of the president's supporters have made a choice to be excited for the president's re-election. But ...
"By the time President Reagan had delivered his first speech on the epidemic, of Acquired Immune Deficiency Syndrome, 36,058 Americans had been diagnosed with the disease; 20,849 had died," Randy Shilts once wrote. Along a similar vein, when will President Obama say all the words in LGBT ?
So many people want to believe in the hope, change, and love that the president so skillfully articulates in his scripted speeches. We are supposed to want to believe in the magical thinking that the president really is on our side, because doesn't he, after all, say so many nice things that he knows that we want to hear ?
While President Obama's lack of clear communication during this inaugural address may not lead to the deaths of tens of thousands of our "gay brothers and sisters," he nonetheless sets the tone for that which the American people become familiar : either feelings of shame and embarrassment that prevent a president from mentioning lesbians, bisexuals, and transgendered Americans, or feelings of equality and respect by dignifying and acknowledging the journeys still being made by lesbians, bisexuals, and transgendered Americans.
Some activists on Facebook took a more diplomatic, but forward-looking approach to the editing of the president's words : by using the occasion of the president's rhetoric to build forward momentum on the social movement for LGBT equality in the United States.

The hopes and actions of LGBT Americans and their allies are to fulfill on our shared dream for equality.
But LGBT activists and allies already exchange amongst ourselves the vision and prayers for equality.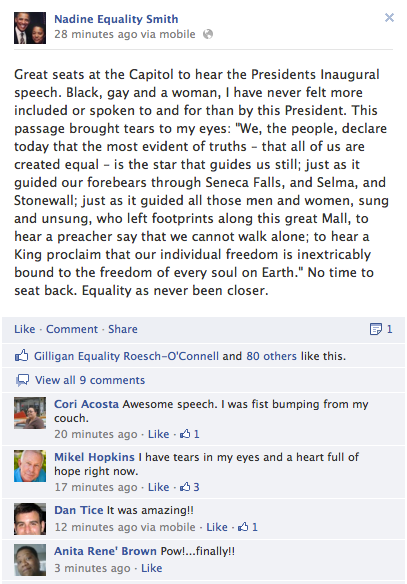 For all the president's rhetoric, we already seem to have, at first blush, the president's love and affinity for our community, at least that which could be expressed in his own way. What we need now is action.
The longer LGBT Americans have to wait for full federal recognition of their equal rights, the more that members of our community remain fully exposed to legally-permitted forms of discrimination in broad areas of their life, including in the workplace.
The skepticism within the LGBT community about President Obama's commitment to true LGBT equality stems from some major examples of actions that the president refuses to take, which contradicts his rhetoric.
For example, the president refuses to sign the Federal Contractor's Employment Protections Executive Order. National LGBT civil rights groups, such as GetEQUAL, have been mounting a multi-prong campaign to pressure the president to sign the executive order, but the president refuses.
President Obama embarrassed both his administration and the Democratic Party by once having said that while he was nominally committed to the idea that all Americans shared the same civil rights, he still had to "evolve" on marriage equality. It was as if President Obama was admitting that his thoughts on civil rights resembled that of someone a little bit ignorant and a little bit intolerant, like former commissioner Bull Connor, who once, among other depraved acts of discrimination, ordered the opening up of firehoses on African American civil rights activists.
Surely, President Obama was not seriously putting himself into the same league as Bull Connor, but why was the president torturing hisself by proclaiming in speech his support for LGBT equality that could not be matched by his actions ?
And lest we neglect to mention how so many people conveniently seem to forget to remember how it took a national campaign of civil disobedience, among other actions, for national Democratic Party legislators to repeal the military's discriminatory policy known as Don't Ask, Don't Tell. The president's political operatives love to mention how the president "repealed" DADT, but they overlook what it took to get a bill introduced in and voted by Congress.
And if the constant push and pull amongst LGBT activists and civil rights groups to define a winning national strategy to deliver a full federal equality bill through Congress wasn't enough, activists must contend with the political trappings of trying to challenge a president who says all the right things and knows how to manipulate support for his administration. And then there are the other unknown, but nonetheless predictable, obstacles for LGBT activists as they set out to challenge power holders, who fail to act to end de jure and de fact discrimination.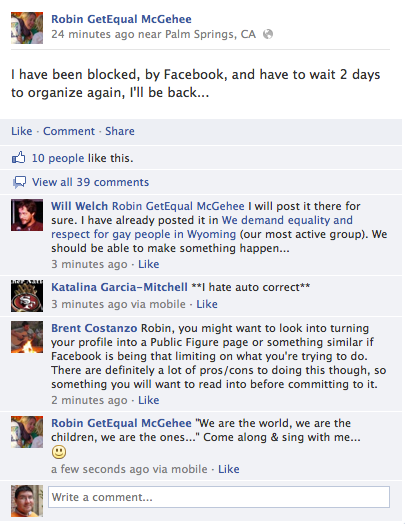 While community organising and activism has evolved since the 1960's with the advent of online tools and other empowering platforms of the Internet like Facebook, YouTube, and blogging, every now and then activists must overcome the occasional opening up of digital firehoses.
Read also : President Obama Must Evolve Again on Marriage Equality
RT @occupylondon Obama is no Martin Luther King! n0.gd/10S4rAe n0.gd/WWZLk2 #mlk #mlkday #occupy

— OccupyBot (@occupybot) January 23, 2013